Dwelling on … What it is to be a Citizen Architect?
Another post in the #ArchiTalks blogging series.  #ArchiTalks is organized by Bob Borson at Life of an Architect. A group of architects writes blog posts around a single theme or subject and posts them all at the same time, ensuring a good range of various takes on the subject or theme. Last month we wrote a post on the theme of WORK/LIFE in conjunction with Labor Day.  This time we write on the theme of CITIZEN ARCHITECT.  I hope you enjoy this as well as the other #ArchiTalks posts. Be sure to check out all the links below and search #ArchiTalks on Twitter and other social media.
Touching a Nerve
Each month, Bob sends out and email with the theme and deadline for #Architalks. When we received the message for CITIZEN ARCHITECT, there was more email banter and debate than on any theme we have done before. There was some suggested reading.  There was also some encouragement, in the true spirit of #ArchiTalks,  to just write what it means to us without too much influence. A particular observation in that exchange was similar to my own philosophy of labels like "Citizen" Architect. Once "architect" is used with a modifier, like "citizen," it is implied that the the definition of an architect DOES NOT include the "citizen" part in the first place. In other words, "architect" is or should be  synonymous with "citizen." I am confident that every architect in the world fulfills the citizen role by positively contributing to their communities, professions, and the lives of those with which they are associated.
Just Architect
It is established that the architect is inherently the citizen. Going back to my WHY I AM AN ARCHITECT #Architalks post, I highlighted some of my endeavors as the citizen.
"Being a part of and serving the purpose of making the world better OR at least making it better looking and better functioning, with respect to facilities, one client and project at a time."
Each project I take is an opportunity to make someone's place in the world better.  If that project happens to be in a public place versus a private residence, the opportunity grows to a community's place.
"Being a part of the AIA and serving the purpose of advocating for our profession."
I am winding down my second year on the board of AIA Asheville.  It has been rewarding in a number of ways: working with great people, learning more about the AIA, and growing professionally with our efforts just to name a few.
Within the #AchiTalks group, there are great examples being set for up and coming citizens. Rosa Sheng comes to mind with The Missing 32% Project, Equity by Design (EQxD). She is playing a leading role in empowerment for women in architecture.  But there is a modifier again: "Woman" architect. That modifier seems to appear as a step in the natural progression of any minority, underprivileged, or otherwise disadvantaged portion of people in a larger whole.  It is the natural progression to that point where there is no need for The Missing 32% Project and "women architects" are simply "architects."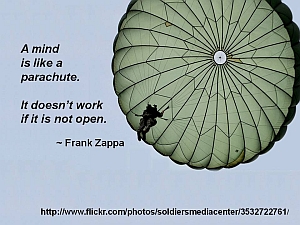 Pick One
There is a plethora of ways we can be good citizens within our communities.  Rather than showing more examples and highlights, let me pick one influence that I feel most important.  What is ONE thing can I convey through this post to anyone reading as the best impression to leave and example to make? It has little to do with architecture but it is rooted in our skills for perception. The one thing I would like to influence and inspire is that we all deeply consider what it is to be open minded. I love the Frank Zappa quote "A mind is like a parachute. It doesn't work if it's not open."
With open minds, we have true respect for one another's views, ideas, and values. With open minds, we can thoughtfully debate opposing points of view without denigrating or ridiculing. With open minds,we have the ability to question and challenge the official story and prevailing conventional wisdom by examining factual evidence and presenting a persuasive case to the alternative.

Anything is Possible
It really is. 7.3 billion people in the world each have their own eyes, minds, experiences and perceptions.  The constructs of society, government, religion, and rules we impose only go as far as we allow governing our knowledge, beliefs, and the inherent power we each have to move mountains.  So open up to the possibilities to which your mind was once closed.  Listen to each other and give those crazy ideas and wacky theories a chance to reach a boil. Take a ride on someone else's train of thought, knowing you can always get off at the next stop and double back if it's not going where you want.
Until next time, live nicely.
Take a look at these posts from all the architects participating in #Architalks … in no particular order:
Bob Borson – Life of An Architect (@bobborson)  Citizen Architect … Seems Redundant
Marica McKeel – Studio MM (@ArchitectMM)  Good Citizen Architect
Jeff Echols – Architect Of The Internet (@Jeff_Echols)  What Does it Mean to be a Citizen Architect?
Lee Calisti, AIA – Think Architect (@LeeCalisti)  small town citizen architect
Lora Teagarden – L² Design, LLC (@L2DesignLLC)  #ArchiTalks: The everyday citizen architect
Jeremiah Russell, AIA – ROGUE Architecture (@rogue_architect)  Citizen Architect: #architalks
Eric T. Faulkner – Rock Talk (@wishingrockhome)  My Hero – Citizen Architect
Rosa Sheng – Equity by Design (@EquityxDesign)  We are the Champions – Citizen Architects
Michele Grace Hottel – Michele Grace Hottel, Architect (@mghottel)  "CITIZEN ARCHITECT"
Meghana Joshi – IRA Consultants, LLC (@MeghanaIRA)  Meet Jane Doe, Citizen Architect
Stephen Ramos – BUILDINGS ARE COOL (@sramos_BAC)  Help with South Carolina's Recovery Efforts
Brady Ernst – Soapbox Architect (@bradyernstAIA)  Senior Citizen, Architect
Tara Imani – Tara Imani Designs, LLC (@Parthenon1)  Citizen Starchitect' is not an Oxymoron
Eric Wittman – intern[life] (@rico_w)  [cake decorating] to [citizen architect]
Sharon George – Architecture By George (@sharonraigeorge)  Citizen Architect #ArchiTalks
Emily Grandstaff-Rice – Emily Grandstaff-Rice AIA (@egraia)  Citizen of Architecture
Daniel Beck – The Architect's Checklist (@archchecklist)  Protecting the Client – 3 Ways to be a Citizen Architect
Jarod Hall – di'velept (@divelept) Citizen Developer??
Greg Croft – Sage Leaf Group (@croft_gregory)  Citizen Architect
Courtney Casburn Brett – Casburn Brett (@CasburnBrett)  "Citizen Architect" + Four Other Practice Models Changing Architecture
Jeffrey A Pelletier – Board & Vellum (@boardandvellum)  How Architects Can Be Model Citizens
Aaron Bowman – Product & Process (@PP_Podcast)  Citizen Architect: The Last Responder
Samantha Raburn – The Aspiring Architect (@TheAspiringArch)  Inspiring a Citizen Architect