Dwelling on… The Importance of Programming as The First Step in a Project
Intentions Confounded by Directions
"What can I do for you?" the handyman said.
"I want to push a button right here to open the garage door." Tom answered, gesturing with one finger to the inside wall by the back door and pointing with the other toward the detached garage .
Little did Tom know, these directions were going to cost more than he needed to spend.
False Start
This was how his story began, as we sat on our lunch break.  Tom was telling us about the project he had hired the handyman to do.  He went through his account of all the work that the handyman performed, from installing an automatic opener, to trenching across the back yard for a switch wire, to boring through the wall to wire the button that Tom wanted "right there". He told his story, with way more detail than I've included here, about delays due to weather, issues with deciding where the wire pierced the building envelope…and of course, cost increases due to unforeseen barriers on the most direct path to trench the switch wire across the yard and a few other issues.
Hindsight
This story is a great example of why it is important to carefully consider the project before the first bit of design, cost estimating, or ground breaking commences.  This is the conception of a project and it holds the possibility of developing extraordinary momentum, sometimes in the not-so-best-direction.  If Tom's project had this first step, maybe he would not lament the realization that the garage door could have been opened, standing at his back door, with a remote. The idea hit him only after the contractor was past the point of no return on the trenching.
Writing Recipes
What if, when the handy man asked the question, "What can I do for you?" Tom had answered "I want to be able to stand here and open that garage door…" rather than the direct request to have a button on the wall. He was really only asking for a button… that opened the garage. More importantly, what if the handyman, or a professional design service provider, architect, were there to ask the question, "Do you require a wall mounted button switch, or would a remote garage door opener be ok?"  Maybe it was important to Tom to have the hard wired ability to open the door without any use of radio frequencies or battery powered remotes.  As it turned out, the $30 remote would have served his needs and saved money that he could have devoted to much better use on his home improvement.
Best Foot (and Inch) Forward
This important first step is called the PROGRAMMING phase in a full service architectural contract.  It is an exercise of PROBLEM SEEKING, also the title of a programming text book. It is a pre-design service and one reason it makes a lot of sense to consult an architect, even for projects where you may think one is not necessary. Some contractors, especially those in handyman work, are not usually concerned with much design work, or the programming that comes before.  It is understandable that they figure owners know what they want so they get about the job of building that and move on to the next project. Before investing in construction, think of the benefits that come from a careful exploration of what you want and what you need. How do these elements of your project align with your budget? How much are you willing to increase that budget to get everything one of those elements in your project? What kinds of surprises can you head off by consulting an architect that knows which hoops you will need to jump through to complete the work without regulatory delay, fines, or budget items you haven't included from the start? That is programming and it is the best way to start a project on the path to a successful completion.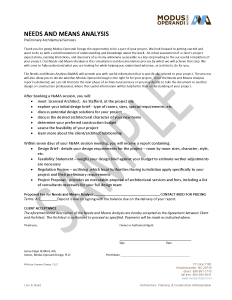 Taking Action
Modus Operandi Design offers a comprehensive version of the programming phase as a standalone service for anyone at the onset of construction. We call it a Needs and Means Assessment (NaMA).  The NaMA is a great, low commitment service to get a complete overview of your project before you move forward. It includes a report of your project parameters and a budget to meet them. You can take that report and continue the work with another architect, contractor, or credit it toward the included proposal of services by Modus Operandi Design.  Click here to review and download this simple yet comprehensive, one page Needs and Means Assessment (NaMA).  If it looks like something that could help get your project started in the right direction, let us know!